Enjoy practice mode at Bovada Flash Casino
When was the last time you visited Bovada Casino? This superb quality casino has plenty to offer, and it is also one of the best casinos online when it comes to offering a practice mode to play in.
What is practice mode?
Put simply, this is a mode you can play in that enables you to try any online slot game they have. You don't have to sign in or create an account. You can simply select the game you want to try and start playing. You get some practice money to use, and while there are no real prizes to win, it's fun to see how the game works and to give it a proper try-out.
How do you find practice mode?
It's easy. When you access the casino, you'll see a whole selection of games in front of you. When you hover your cursor over one you like the look of, you'll see two options.
If you're looking at the games in list mode, the options will be info and play. If you're viewing the cards mode, you'll see play now and learn more. Simply select play, and you'll be asked whether you want to go for real play or practice play. Select the latter option and you're good to go!
Is the game exactly the same as it would be in real play?
Yes, there are no differences at all. This means you can try out a brand new game without it costing you anything. You'll be able to see how the game works, how many options it provides you with, and whether there are any bonus rounds or other special features available.
If you decide you like the game and you want to play it for each, you can do just that. There is a button at the top of the game screen that says real play. All you have to do at any point is to click on that to go through to play for real. You'll have to sign into your account - or create one if you're a new member - but you can then play for real money.
The Bovada Flash Casino is the behind the scenes brother of the Bovada Online Casino. The flash version is the option where the player can instantly play the casino games without having to download the Bovada Casino software. This function is very easy to use, simple, and user friendly - obviously Mac friendly too. All the player has to do is have a web browser with the flash plugin installed, and head over to the Bovada Casino website and click the Instant Play link to start playing. Being that Bovada is a US friendly online casino; the flash version also holds true to this and will allow Americans to play through this service. Note: Bovada is only open to US residents.
Games
The quick and simple layout of the Bovada Flash Casino and its instant play feature makes it so that there are fewer games available that a player could have, unless they downloaded the software; however, fewer does not mean lower quality. The games made available through instant play are the more popular and fan favorite games. They offer Table games, Slot games, Video Poker, Progressives, and Specialty games, even some exclusive games to the brand. The favorite Table games at the moment include Blackjack, Caribbean Stud Poker, Craps, American Roulette and Baccarat, within some others. Slot games have more variety available, and some of the popular slots are Dragons, and Witches and Wizards. There are 17 different types of Video Poker games made available through the flash version. Progressives are very popular as well, and offer great jackpot opportunities. That said, one of the specialty games that is playable through instant play is Keno.
A Night Like No Other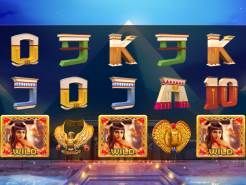 Got a thing for ancient Egypt? Are you infatuated with queen Cleopatra? Well now's your chance to satisfy both of your cravings with A Night With Cleo, a riveting five reel game. As the name suggests, the theme of the game is all about the lovely, and unique, Egyptian queen, Cleopatra. In a departure from traditional, ancient Egyptian games, A Night With Cleo takes you right into the enchanted bedroom of Cleo herself. In fact she is lying seductively, awaiting your every spin. There is enchanting music to get you in the mood. There is an exciting free spins round as well. And if you play your cards right, you will get to witness the lovely Cleo strip before your eyes.
A Gold Rush Of A Lifetime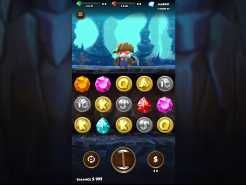 Can't get enough of the gold rush? Then give Gold Rush Gus Slots a try. This five reel gem takes you right into the heart of a gold mine. But there is a lot more than gold at stake in here. Grab your ax and prepare to labor through the ten pay lines in search of hidden treasure.
The are lots of interesting icons in this game. The gems and the playing card symbols can reward you with explosive and golden winning multipliers. Not to be overlooked are the free spins and the bonus rounds. As Gus mines away, look out for three free spins icons. The more of these you gain, the greater the number of free spins you will play with. In the free spins round, you can win winning multipliers up to four times.
Keep your eye out for the gems as well. Depending on the type you dig up, will determine which one of the three progressive jackpots you will win.
The Reign Has Just Begun
There small, they're cute, they pay. We're talking none other than Reign of Gnomes Slots. Experience middle earth like never before with Reign Of Gnomes, a five reel slot where honor, glory and majesty takes center stage. The game play takes place in front of a picturesque castle with a gleaming and flowing river. Free spins are specialty here. You have the regular spins kind and then you have the dragon spins. During the dragon spins, there is a golden wheel bonus feature where wilds can turn up randomly in the middle reels with explosive winning multipliers to show for it as well.
Benefits
There are tons of benefits from using the Bovada Flash Casino. The website itself offers amazing promotions and bonuses, such as the Welcome Bonus, where a player could get up to $500 bonus on 100% of their first deposit. Not only do they treat new players well, but they make sure to keep current players happy with other great promotions. Aside from the bonuses and promotions offered, the instant play option has other great benefits.
Inexperienced or skeptical players have the opportunity to test the waters, so to speak, before diving into the casino games - for free. The flash version has an option where the player can either play for real money, or try the games for free. In this option, the player gets $1,000 play money to use and play on any of the games available. This will help the players gain experience, as well as get familiar with the gaming layout - and do not worry, that play money keeps coming and coming - never ending. Another benefit includes quick and easy gameplay, which can be accessed from any computer with an internet connection, making it completely mobile. The layout of the Bovada Flash Casino makes it easy for the players to find and play the games they want. If the player does not like the default view, they can switch it up. They can even search for the specific game they want to play instead of sifting through the many games offered.
Customer Support
When playing with the instant play option, the Bovada Flash Casino allows you to contact any of their many great customer services that are offered through the flash pup up. By having the easy access to the support, the player is helped with greater speed and accuracy. They also have the Help section available as well, so that the player can use the FAQ section to solve some of the more popular questions.
Try some of the games in practice mode at Bovada now!
It's only when you visit Bovada to take a closer look that you realize just how many excellent games they have. A lot are in 3D, but whatever you play, play for fun today!