Bubble Bubble 2 Slots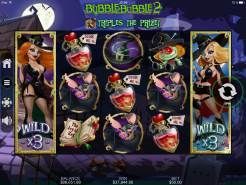 Play Now
Mirror mirror on the wall, who's the best witch of all, that of course is Winnie the Witch, who's back in Bubble Bubbles 2.
Going Inside The Game
Bubble Bubbles 2 is the brainchild of Real Time Gaming, and marks the super sequel to the Halloween classic Bubbles Bubbles, a witch theme game. Once more taking center stage, is Winnie The Witch, the friendly witch wanting to cast the right spell to make you rich. The sequel boasts even more pay lines, coming with 50 to be specific. In the sequel, there are not one, but four wild symbols. The lovely Winnie represents one of those wilds and her pretty sidekick, Wanda, is another wild symbol, as well as the wild ghost symbol. These wilds, however, will land on different reels, and will yield different results. Winnie will only fall on the first and fifth reels, and will sub for the other symbols, including scatter icons. The witches will also expand over the entire reel, offering dramatic winning combinations and at a minimum, will triple winning combinations. And if both Winnie and Wanda land at the same time, the winning multiplier will go to one of nine times. The wild ghost symbol will only fall during the wild ghost bonus round. The official wild symbol will only land during while playing the wilder witches feature.
More About The Bonus Rounds
Bubble Bubbles 2 is very strong when it comes to the bonus rounds. To access the multiple bonus rounds you will need to get at least 3 scatter symbols to fall. The bonus round that you will play, will be determined by touching the magic wand. The Greater Ghosts bonus round starts off with 20 free spins. The more scatter symbols you land during this bonus round, the greater the number of ghost wilds will fall. All in all up to 9 ghost wilds stand to land in this feature. More free spins can be won by another set of three scatter icons. The second bonus round is Wilder Witches Feature, where you begin with 9 free games. If you land either Winnie or Wanda land during this bonus round, they can cast a spell, with the reel being hit by the spell, turning into one of the witches for more wins. And if both witches land and cast their spells, you stand to earn either 33 free games or have an entire reel turn wild. Yes, it is possible to win both. The Win Win Feature can only be played from the Wilder Witches Feature on the terms that your overall wins is equal or greater than 10 times your bet placed. In this case your losses will reward you with a 10 times multiplier. In the Ultra Bewitched Feature you are started with 7 free games along with at least wild, serving in an expansive capacity. Winnie will either expand on the first reel, or Wanda will grow to cover the entire reel.