Play Halloween Themed Slot Titles to Become Horribly Rich
Ask people what is their favorite holiday festivity and a lot of them will say Halloween. This is especially the case with children and horror fans. They have many good reasons to like this dark but atmospheric festivity. After all, who doesn't like to dress up in a fun and spooky costume for a night of trick or treating and partying? And getting home with a big bag of delicious candies, after a night of creeping around, is of course the highlight of the holiday for all of those monsters with a vicious sweet tooth.
Slot game enthusiasts are of course among the people that enjoy these festivities. But Halloween can turn out to be a bit more special for them. While playing at online casinos, they will receive a lot of extra treats in the forms of Halloween themed slot machines.
There are many of those games out there on the internet these days, and they partly thank their huge popularity due to their enjoyable and versatile holiday themes. A Halloween theme can cater to the likes of fun loving candy and pumpkin fans, but also to thrill seeking horror fanatics that like to get a good scare from hideous creatures like ghouls, zombies and vampires.
So Halloween themed slot titles offer fun, scares and coins to everyone. Take a look at the creepy games that you can play during the spookiest holiday of the year, and of course also on other dark days or nights. To get fully into the mood of these games, you should preferably play them when the moon is full and when the howling wind rubs the screeching tree branches against your window.
Crazy Halloween Slots
Things have a tendency to get a little bit strange during Halloween, but what if they get downright crazy. Let that be exactly what will happen when you play Crazy Halloween Slots. This funny 5 reel game is a perfect slot machine title to get your spooky gambling adventure started.
On your game screen, you will see various creepy creatures that perform funny actions when you spin and click. Both action require a bit of bravery, because you need to click on the skulls to adjust your bet amount and the amount of pay lines (max 25). Additionally, you need to click on the ghost to activate the max bet feature, and on the gravestone to activate the auto spin option. Additionally, the owl functions as your spin button, and you will see symbols like zombies, witches, worms and eyeballs appear on the reels if you click on it. Conquer your fears and collect your winnings so that the night will reward you with a warm shower of coins instead of with a cold grave under the earth.
Halloween Fortune Slots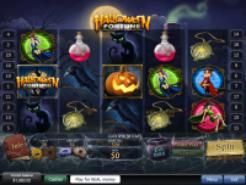 >Halloween Fortune Slots introduces you to a mysterious world of witchcraft. The clouds thunder, the witches cackle and their vicious brews simmer. It is a night full of evil and toxic terror. Halloween Fortune Slots has all the elements to give you a creepy experience full of thrills and exciting winning opportunities.
This 20 pay line and 5 reel game places witches, skulls, crows, potions, amulets, black cats and Halloween Fortune symbols on the screen and lets you play with them. Create your own magic spell of fortune and spin those creepy reel icons towards your luxurious destiny.
Halloween Riches Slots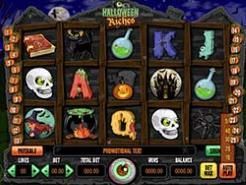 Halloween Riches Slots is a similar game like Halloween Fortune Slots. For example, you will also get to spin symbols like witches and black cats. However, what makes this game extra eerie, is the fact that you will hear very creepy sounds in the background. The thunder rumbles angrily in the distance and wolfs are constantly howling. Occasionally, you will hear other night animals as well. These spooky sound elements make this an ideal game to play with your headphones on. By doing so, you will create the perfect creepy atmosphere.
Once you are uncomfortably settled, you can start to spin the 5 reels and bring up animated symbols like the laughing pumpkin, the biting skull and the flying witch on her broomstick. Other fun and scary elements in this 25 pay line game are the spin button that looks like an eye, and the text field above it that states all kinds of creepy, funny and informative sentences.
HalloWin Slots
HalloWin Slots is a simple and colorful online slot machine that looks appealing to the eyes. That is, if you're into typical Halloween elements like glowing pumpkins with big smiles, flying bats with bulging eyes, wild witches and tasty candy apples.
Spin these symbols on the five reels and watch them form winning combinations via the 20 fixed pay lines. The unique thing about this game is that it locks any appearing wild icon (a witch) on the slot machine reels until you win. All in all, HalloWin Slots is a fun little game that you can play to get into the Halloween spirits on a dark and stormy night.
Spin Nightmarish Elements to Create Beautiful Dreams
You no longer have to wait until the days get cold and dark to kick off your favorite holiday. These Halloween themed slot titles make sure that you can go trick or treating on every day of the year. However, instead of doing it to collect candies, you will be able to obtain precious coins.
Imagine how many bags of candy you can buy if you win the highest cash prizes in these games. So head over to casinos that hosts these slot titles and spin those nightmarish elements on the reels to create the most beautiful cash winning dreams.